My mom helped me open my first bank account when I was 16. I remember the little book I could stick in the machine to get an update of all my transactions. These tended to be concentrated around Christmas and my Birthday, at least until I scored my first job at Walmart.
Since then Canada Trust was purchased by TD, I went to University, memorized my account number while working for eDonkey (USD cheques, quite the pain), moved to Montréal, back to Ontario, got married, and had 19 jobs I can remember. Throughout all that, as far as I can tell, my bank got steadily worse. Features I cared about (like being able to buy things up to my account balance with my debit card, setting my own cash withdrawal limits) went away, and fees climbed steadily.
About two years ago I thought the fees I was paying were out of control, so they moved me onto a fancy "unlimited" account, which included a bunch of things I'd been paying for individually, including my USD account, and some "overdraft protection" I never actually used. Three months later they "adjusted" their account offerings, and my "unlimited" account stopped including the other things I was using. This bumped my fees up by another $10/month. I tried to go back in and find a new account, but couldn't even get past the "Welcome" desk. The gatekeeper there told me I already had the best account, and wouldn't let me talk to anyone else in the branch.
I signed up for an account with ING Direct (an online only bank) many years ago for some basic savings. As my frustration with TD Canada Trust peaked, their ease of use, interest payments on accounts, and complete lack of fees struck a chord. I began moving all my transactions over. Somewhere long the way ING Direct became Tangerine. Cheque deposit with my cell phone, easy automatic savings programs, great stuff.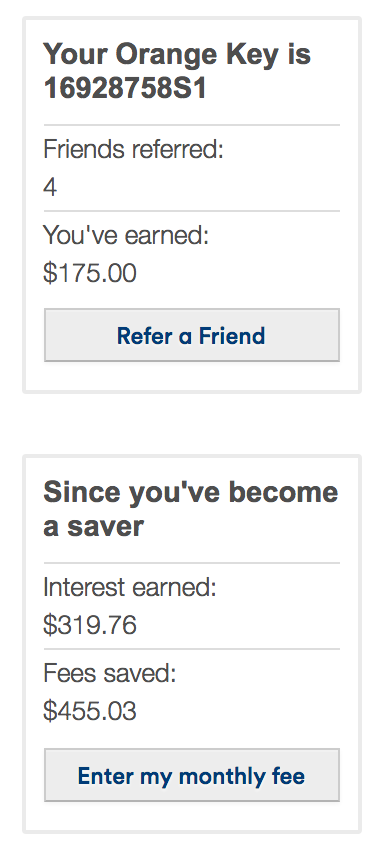 Tangerine has a neat feature where you enter your monthly fees at your old bank, and it counts those up over time. It's nice watching those numbers climb.
The only draw back to Tangerine is that they don't have a mechanism to receive wire transfers. During my tenure at Social and Scientific Systems I participated in their ESOP, which they pay out by wire. Getting paid out is a lengthy process, so despite departing in 2014 my disbursement didn't arrive until this week.
So today, about 20 years after opening the account I closed it forever. I'm saving over $300/year in fees, earning interest, saving more money with their easy automatic withdrawals, and actually enjoying their website. Would recommend! If you sign up today they'll give you $50 for free! My "Orange Key" is: 16928758S1.
Comments »
No Trackbacks