Calling a phone number on a website, and being asked to punch in numbers or say key words to navigate arcane menus to the person or department you need is silly. If you're already on a high bandwidth system that excels in information display, how is it sensible to be transferred to a low bandwidth system before making decisions?
The average person speaks at 120-150 words per minute, and reads at 250-300 words per minute. So even before any other consideration the user will be able to move through information twice as fast on the website as over the phone. But it's much much larger than that. With the written word it's incredibly easy to skim, or skip entire sections you know to be irrelevant, on the phone you're forced to hear all options that precede the one you're interested in. It's also possible to jump between options as you evaluate them against your needs.
Consider: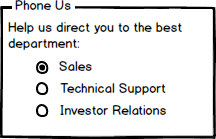 ↓
↓
↓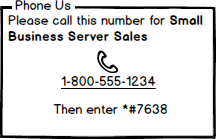 I could navigate that in seconds with great accuracy, and have the ability to jump around while I look for the best choice. I'd actually buy a different phone number for every possible end point (rather than requiring a separate #[code], but even with this it's a vast improvement. I think I've only ever seen PayPal do something similar with their web authentication codes for calling in.
Comments »
No Trackbacks