Last week I noticed an article on Hacker News titled "Latency numbers every programmer should know". The post included the latency for a packet to travel from California to Netherlands and back. Since we've generated extensive ping statistics at WonderNetwork, including Los Angeles → Amsterdam, I replied to the gist with a link to our data.
Then the traffic came. Quite a bit of traffic, actually: by the end of the day our earlier traffic numbers were floored at zero by the new scale (this doesn't bother me, we haven't publicized the site much).
Here's what our traffic looked like, broken down by visitors per hour: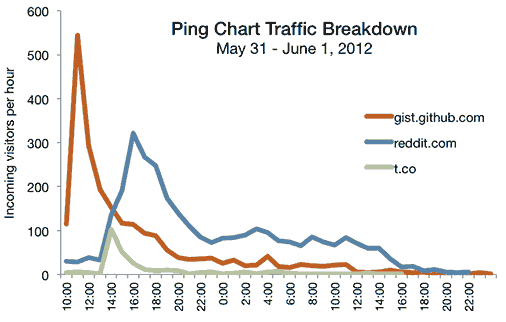 As you can see, the gist traffic spiked fast and early, as the news post peaked on the front page of Hacker News, then fell away. The reddit traffic built a bit more slowly, gained steam when it hit the /r/programming front page, then trailed off more slowly. Even though the gist peak was much higher than reddit's they provided less traffic overall. Over the period shown: reddit: 3161, gist 2249, t.co (twitter) 286.
Average time on site was just under three minutes: people experimented with our data! The bounce rate was good, average actions (which doesn't include people interacting with the JS portion of the graph) was nice, and our site continued to perform fantastically even as it received hundreds of times more traffic than usual.
Unfortunately, we were in a horrible position to monetize that traffic. I added some random links to our other products to the ping data a while back, but it's poorly integrated. But really, I'm fine with that. Our server performed fantastically, a lot of people got use of the data that we've published, and we've probably built a bit of name recognition. I'll take that win.
I read an article a while back about the new policy "On Air, On Sale" in the UK where record companies start selling songs once they play on the radio. It mentioned how it would give sales charts a more organic feel, as previously demand would build before sales started so albums would debut high. This feels similar: the reddit traffic built with interest, and trailed off slowly; the gist (via Hacker News) traffic peaked hard when it hit the front page, then died off just as quickly when it fell of page 1.
Comments »
No Trackbacks